Creativity abounds in the world of April Martin, a jewelry designer working and living in Napa. April makes custom jewelry for clients in and around Napa, offering her pieces both wholesale and retail, as well as personal in-home styling sessions by appointment.
The creative process is what April loves the most. She says, "I procure materials and have fun making the magic." She especially appreciates when women tell her they received compliments on one of her creations that they are wearing. Many of her clients remark that they feel positive energy from the jewelry, which April says is "so gratifying."
Donating her jewelry to many organizations for silent auctions to help raise funds for worthy local causes is big on the list for April. These auctions provide her the chance to give back to the community in which she works and lives. It is a win-win!
As she continues to expand upon her love of jewelry and creativity, April has started to work with a local woodworker whose medium is mostly retired wine barrels. She says "It has been a fun collaboration mixing a completely new medium with one I am already familiar with. Stay tuned!"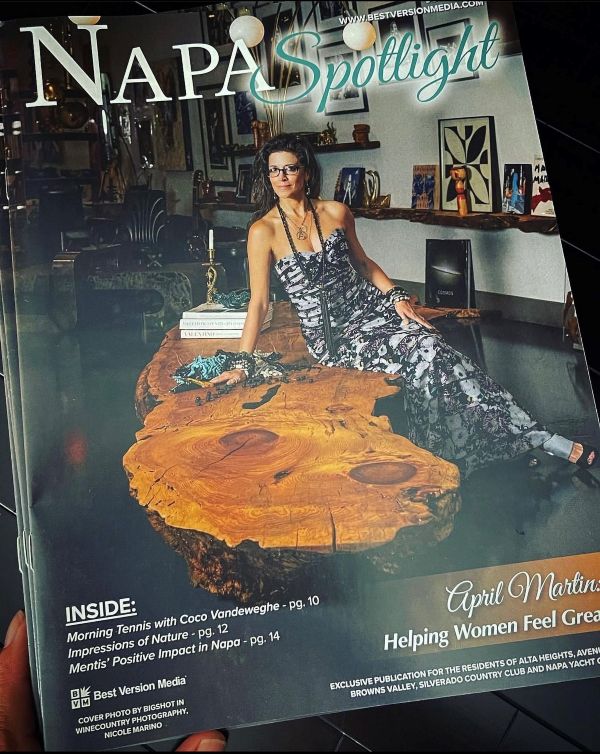 April's career began in the tech industry after graduating from UC Davis. She stayed in tech for 15 years, and at the time, jewelry and jewelry making was a fun hobby. She stuck with it and continued creating pieces and she soon found this hobby of hers began to take off. She says she is "always changing and creating new ways to adorn." She prefers a variety of different looks beginning with a "solid classic look with a bit of a departure…say Native American, beachy, modern or romantic."
Hiking, gardening, seeing live music and exploring are on the list of things April enjoys doing when she's not creating a new and different piece of jewelry. She loves the many trails to hike around the Valley. Additionally, wine tasting just about anywhere around Napa is another go-to activity, as well as cooking for friends, making a bowl of her famous popcorn, and watching documentaries. Discovering a great county fair finishes off the list of favorite activities, and April will even go so far as to say, "I haven't met a turkey leg I didn't love!"
April has an older brother Glen, who lives in Scottsdale, with is wife Kamala and a cousin (Patti) that lives on the Hudson River. And as for other family members, she considers most of her very close friends in Napa her "chosen family." She resides in Browns Valley, having bought a MId Century house there four years ago.
Prior to moving to Napa, April had lived in Aptos for 18 years and had been commuting about twice a month to Napa. She says she "always loved the way this valley made me feel. I also had a huge personal support group as well as a professional following here." She made the permanent move in 2019, deciding one day to sell her home in Aptos and buy one here in Napa. She says the move completely changed her life and to this day "is one of the best decisions I've ever made." Living in Browns Valley, she has found an amazing neighborhood and adores her street and neighbors.
"We text each other often and I feel safe and happy exactly where I am. I also know most everyone in the neighborhood and love to walk to on of their houses with a bottle of bubbly to enjoy!" She says she even will hand deliver a website order on foot if the buyer lives close enough.
Back in her high school days, April says she was introverted and shy and would still say she is both, to a degree. She is also a complete tomboy and loves both cars and sports. A great day is watching an exciting game or going to see a car show/race in the area.
Conversely, she was trained in classical ballet for 15 years. She calls it her "yin and yang."
Versatility is a word that can be used to describe her pieces. One of her designs can be worn with a t-shirt, jeans and flip flops or a beautiful dress. She wants women "to be able to put one of my creations on and feel special." She continues to be humbled when someone recognizes her or one of her creations when she is out and about, which is a feeling, she says, she "will never get used to!"
Everything is coming together quite nicely in April's world as she is able to, as the quote says, "do what you love and love what you do." With that said, she makes certain to "work as sustainably as I can and work with as many small businesses as possible." She goes on to say, "When you support my business by buying a piece of jewelry, you support at least three (or more) other small businesses. I love that my business literally helps grow and support a community."